Browsing Category: "Kids in Doodles"
No, my kids don't write on our walls.
But one day, Roi asked me to go to their room. He said he was going to show me something. Now when he does that, I have to go otherwise he will keep bugging me and won't stop until I gave in.
He showed me this:
Awww, ain't that sweet?  My heart melted. Now this could easily be removed from the wall in case we don't want it anymore because he used a material that's similar to clay.  I don't know what it's called but I use it for my visual aids when teaching.
Sweet boy, isn't he?  And he never fails us to give hugs, too.
Happy mom I am.
Shared for: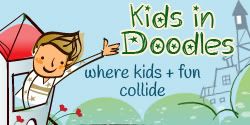 and  BPC
One of the things that I really enjoy living in Thailand is that we moms get to celebrate Mom's day twice in a year! The usual Mother's Day celebration would be in May, right? But in this country, it is celebrated every 12th of August, in time for Her Majesty Queen Sirikit's birthday.
This morning the kids decided to make me breakfast. Hubby told me to act surprised when they come into the room but I wondered what took them so long! Turns out that they made me these colorful cards!
Aww, such sweet kiddos.  Funny they had to apologize that my food's not that hot anymore because they made breakfast for me first then worked on the cards!  I said it's ok.  A hot breakfast is nothing compared to joy of seeing our kids spend so much time and effort to make their mom happy.
I am one blessed mother.  Happy Mother's Day to my mommy friends who are in Thailand!
Shared for: BPC +Kids in Doodles
I am very pleased that my kids are so into drawing.  I really don't know how to draw, so I could only wish that my kids would be like my older brother and younger sister who are such great artists. Here are some samples of Ria's drawings:
I would like to thank my friend Lalaine for photocopying me this great book that teaches kids how to sketch– the steps are so simple Ria greatly enjoyed following its simple instructions.
Here is Ria's work:
Here is also a drawing of a ladybug she made.  I was not able to take a photo before she colored it.
Hubby and I are so blessed  to have a budding artist in the family.  Our Ria is one shy girl who is not really confident about what she does, so we always make it a point to affirm her that the works of her hands are wonderful!  Don't you think so too?
shared for:  KIDS in DOODLES + BLOG PHOTO CHALLENGE