Browsing Category: "Home schooling"
Our homeschoolers are learning Mandarin with a very good teacher and friend, Fai. They only have it one hour a week, but are very much looking forward to it.
They are learning Mandarin as I write this post, and I am enjoying it myself. Mandarin is a tonal language and it's fun listening to them make those "musical" sounds.
Mandarin is now considered to be one of the most important languages, especially here in Thailand. All schools are now offering this subject in their schools. I believe that a few years from now, Mandarin is going to be very needed in doing business and other important transactions, but to be honest, I don't think I have the energy to learn another foreign language!
Hey, everyone! I will be hosting this month's Blog Photo Challenge.  I know being a host is going to be challenging, but I am grateful that I finally have dug through photos which have been sitting in my camera since March– and yes, I have now transferred many of them to my computer and into photobucket.  So, BPC hosting has made me blog again.  Nice!
I had been so lazy for the past few weeks (or months) that I have not really updated my blogs so this is a good start.  For today, I am going to share photos of Roi who, one morning, decided to wear his Batman tie to [home] school.  He also wanted to wear the slacks and special pair of shoes that he wore during his Tita Reyna's wedding.
So here's my handsome homeschooler who decided to dress up for the day: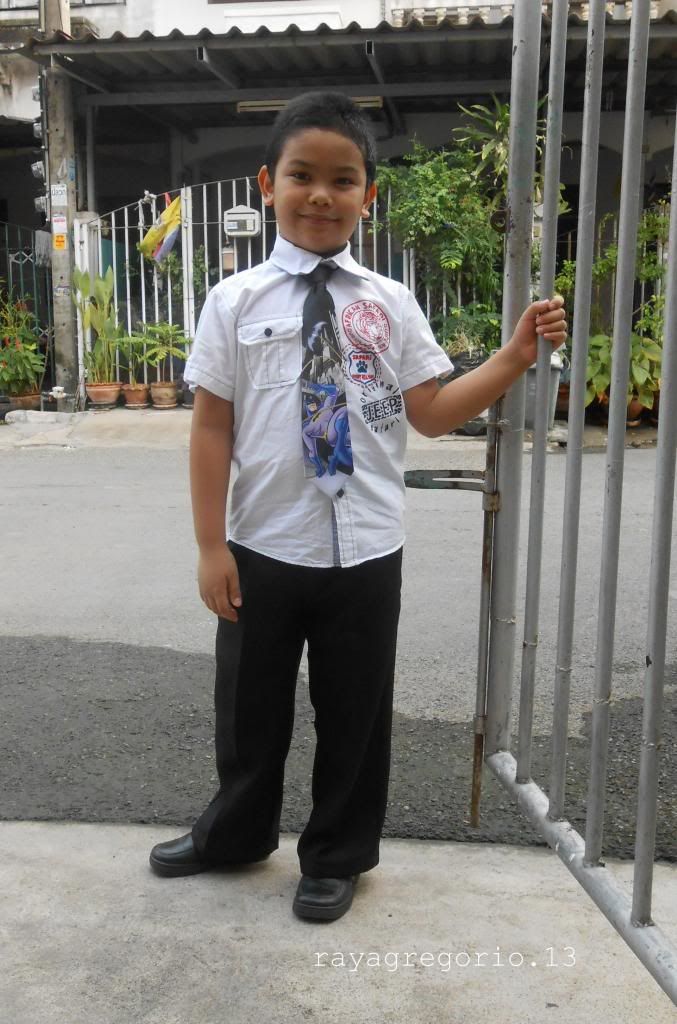 And it seemed that he was so well-behaved and extra hardworking that day.  I guess wearing that tie made the difference?  Haha!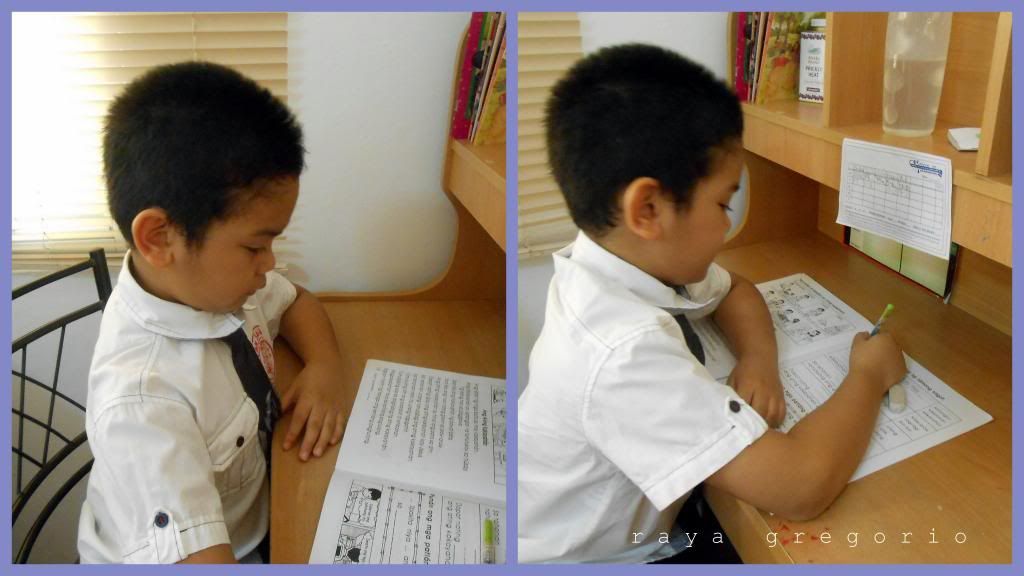 Our kids are homeschooled, but they don't learn at home.  They have a special room at the Learning Center where we work.  For us, it's really good because the kids get to wake up early in the morning and have that "feel" of what it is to go to school, although they use homeschool materials.
So, I am looking forward to your photos… do share them!
I have made a post about the Pros/ positives of homeschooling.  Now, for its cons.  There is no guarantee that homeschooled kids turn out to be perfect kids since they are very much sheltered in their homes and are under their parents' eyes almost 24 hours.  In fact, homeschooling is not a solution to your child's misbehavior.
For those who are contemplating of homeschooling their kids, it would be good to also consider its negative aspects:
1.  Financial Restraints. With our growing cost of living, it would be very normal to see both parents trying to earn a living these days.  When you decide to homeschool your child, it could mean that one of the parents have to give up work and focus on teaching the kid/s instead.  It could mean that with only one parent working, the income drops.  It is a risk the family has to take.
However, I know of some homeschooling parents who also pool their resources together.  They form a group and ask those stay-at-home moms to take turns in supervising the kids.  Those who need to work will just pay a substantial amount to their friends who take care of the homeschooling.  Now this is a brilliant idea because then, you entrust your kids to people you know.
In our case, we actually have one lady who takes care of the homeschooling and we just pay her.  This is because regular school is unbelievably expensive here in Thailand and homeschooling is the only way to "send" kids to school– unless we enroll them in Thai schools where the only medium of instruction is Thai.
2.  Time Restraints.  It could be very draining on the part of the parent  who is teaching the kid/s.  Although homeschooling sounds easy, it is actually not.  Imagine having to creatively do some extra-curricular activities in order to supplement the lessons?  That could be draining and definitely a full time work on the parent.
3.  Limited Team Sports, Less Social Life.  Whether you like it or not, your homeschooled kids could miss out the fun of playing in a team like the ones in regular schools.  Your kids could miss out on essay writing, dance , singing competitions that you used to enjoy as a kid.
We are actually working on this right now.  We are planning to have the kids sit in at a local school so that they can also enjoy other friends aside from the kids that they are learning with.  Aside from that, we also like them to learn Thai language since we see ourselves working in this foreign country long term.  Of course, we still have to continue homeschooling them.  Their Thai school will just be  part of their time so they can also bond with local kids.
There are also other ways to improve your homeschoolers' social life.  Enroll them in a ballet or karate class.  Find clubs.  Some parents talk with principals in schools and enroll their kids part time so they can enjoy the Physical education or art classes.
If you are planning to homeschool, there is no other way to do it than to be creative in order to have well-rounded and socially healthy kids.