Browsing Category: "Gifts"
This post is obviously long overdue, but like they say, it's better late than never, right? Last Christmas Ria received gifts from her Ninong and Ninang (godparents) Mark and Vine Grossnickle who are based in Maryland, USA. Ria was so excited to open her package: a purple Bible and journal!
We praise God for you, Mark and Vine who thought of blessing Ria with these precious gifts. We know that the Word of God would mold Ria into the woman God wants her to be– and you will always be a part of that journey.
Roi turned 7 while we were on a trip a few months ago and at that time, he was so into Starwars.  We asked him what he'd like for a gift, and he said he would like to have lightsaber swords.  We tried to look for one in the nearest mall, but we could not find any. I tried to search on ebay, and I found a pair of lightsaber swords– the ones he really liked! I think I paid 30 USD for the pair including the shipping.
I don't normally buy items from ebay especially that we are not based in the US. I have heard of so many stories of items being lost during shipment, or that they come really late, like months after. I took the risk, anyway. One month has passed and we were so worried about our package. It took 6 weeks to get here!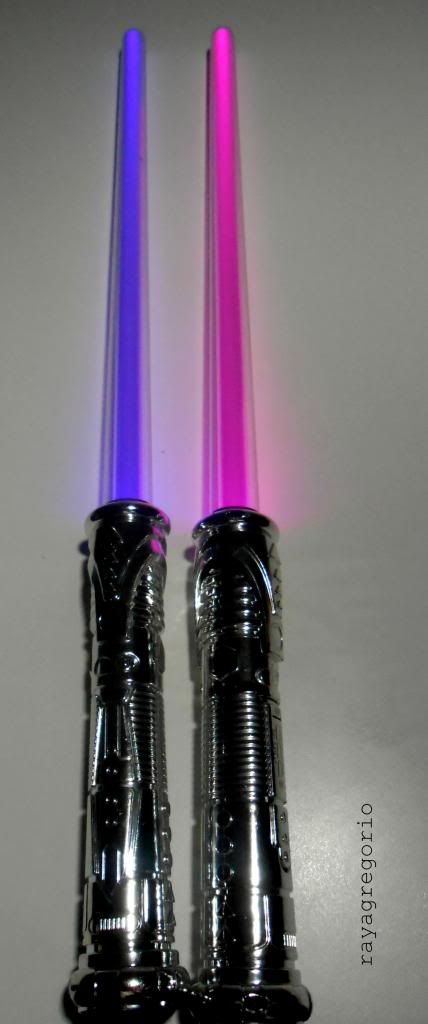 I am glad that Roi got his lightsaber swords– not so on time, but at least he got what he wanted for his 7th birthday!
We were just going around The Mall Bangkapi one time when we came across this cute shop that does/sells decoupage items.  For those who don't  know what this is, Decoupage (or découpage) is the art of decorating an object by gluing colored paper cutouts onto it in combination with special paint effects.  The most common material used for this are decoupage napkins.
I have came across shops like this at the JJ Mall before, but never really paid much attention to them.  Mr. Pat, the owner of "Display Me Studio" was very accommodating and offered to give Ria free lessons on how to do decoupage.  All we have to do is to buy materials.  We thought it's a very good idea, because Ria doesn't really have arts and crafts in her homeschool schedule.
We chose a tissue holder to be Ria's first decoupage project.
So here are some easy steps on how to do decoupage:
Step 1:  Inspect the item to be decorated on for cracks and damages
Step 2:  Paint the item.
3.  Step 3:  Dry… with a hairdryer!
4.  Step 4:  When the item is dry already, paint glue on the surface.
Step 5:  Prepare the decoupage napkin.
Step 6:  Use a not-so-wet sponge to press the napkin against the item.
Step 7:  Apply Varnish
Step 8:  Let the item dry.
Step 9:  Pose with the teacher!
"Display Me" Studio is located at the 3rd floor of The Mall Bangkapi, Huamark, Bangkok, Thailand.  For more information about this shop and to be updated with new designs, you can like their facebook page.