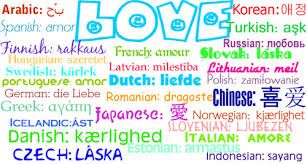 Most people equate fluency of the English language with being smart.  "She speaks English really well– she is one smart kid," we would often hear these comments.  It is not surprising, therefore, that many parents opt to enroll their kids in schools where they can develop their English speaking abilities.  On top of that,  buy them books, DVDs and other resources that can somehow contribute to their mastery of the English language.  Now I am totally agreeable to that.  As a mom whose native tongue is not English, I also desire that my kids grow up to be fluent English speakers.  But I do have a problem with parents who teach their kids just English that they lose their mother/ native tongue.  And I am certainly not agreeable  with equating intelligence with English fluency.  Take it from the Japanese, Germans, Koreans and the Chinese!
I have to say that Filipino friends of mine who are married to non-Filipinos would be exempted to this because of course, they have to decide what language they are going to use at home . Hey, no offense, friends, ok?
As a Filipino who is living with my family in Thailand, I am proud to say that our kids have Cebuano as their mother tongue.  This is because my hubby happens to have the same language as mine.  Aside from that, our kids also speak English fluently. It's a decision that hubby and I made– we are not going to let our kids lose our native tongue despite the fact that we are living in a foreign land. Here are a few of our reasons:
1.  Sense of Identity.  Although we are really trying to assimilate into the community by learning Thai and the culture of this country, it is still important that we maintain our identity.  We would not stay here forever and there's a big possibility that our kids would go back to the Philippines for university so it's important that they are still able to speak our native tongue.  That way, they would also find the "re-entry" and the "re-connection"  to our home country easier.
2.  Intellectual.  Studies show that non-English speaking kids who have mastered their native tongue before learning English have higher intellectual maturity as supposed to kids who don't.  I am greatly encouraged by J, a Chinese friend of mine who was born in Hong Kong.  When she was 9, they moved to Australia.  But interestingly, her parents were adamant that they speak Chinese at home.  "Speak English outside of this house but as long as you talk with us, it has to be Chinese," her parents would say.  But J was excellent in both languages– she finished a law degree, another degree in Bible school and now she is here in Thailand, speaking and reading Thai perfectly!
Personally, I believe that children should learn English, but never at the expense of their native tongue.
3.  Family Connection.  Although I can speak English and I don't have trouble understanding or speaking the language well, I still believe that I can have a "heart-to-heart" talk with my kids using our native tongue.  I can explain why I don't agree with certain things and why I don't… why I do this and that… and why I punish them, etc.  I remember one Filipina whose son don't speak their native tongue. Like many Filipino kids, this boy doesn't understand a word of their native tongue because he grew up speaking only English (despite the fact that both his parents are Filipinos).   Whenever she would reprimand her son, she would just say, "No!  Don't do that!"– without a proper explanation why.  On a personal basis, I don't think it's right for parents to decide to use the English language if they are not that fluent enough to express themselves using the language.
4.  Economic Reasons.  Our son Roi speaks the two main languages in the Philippines, brilliant with English and we are about to enroll him in a Thai school.  We gave it so much thought and we said, who are we to hinder our child from  learning another language?  No, we could never underestimate a child's capacity to be multilingual! But of course we are not saying this is going to work perfectly as planned.  We are going to try this out  for just one term and see if it's  worth it or not.  If not, we could always go back to homeschool– that is, if the plans for international school do not push through.
So I said "economic"– because people who are multi-lingual have greater edge over those who are mono-lingual.  I am 100% agreeable to the fact that a multi-lingual person has more chances of landing in good job opportunities, both locally and abroad.
So now I can proudly say… I am a Filipino.  My kids speak the same language as we do.  It's something that we are proud of, and something we would like to keep– wherever we are in the world.
Being married to a musician has lots of benefits. Hubby is that kind of musician who "plays by the ear" and has not learned music notes, but can play a song perfectly– hitting the right notes and all. I call it a gift and I am extremely proud of him.
I have always wanted to learn how to play the guitar myself. Well, I do know how to except that I need to have a copy of the song and the chords if you really want me to play. Inasmuch as I want to be like my man who just listens to a song and know what chord it is, I just can't. I am not that gifted, and I get that.
I was actually trying to learn to play guitar with the hubbs as my teacher but I can't stand his being strict (I guess I am just too spoiled! LOL)– so I never get to learn it. Sigh. Wasted years, I say. But now I really want to learn again and go back to the basics. Maybe I need to get a acoustic amplifier at Guitar Center so that I will be able to hear myself play and somehow be inspired.
Well, hopefully!
We have been homeschooling our kids for the past 2 years.  It's because here in Thailand, we have very limited options when it comes to the kids' education.  If we enrolled our kids in an international school where English is the main medium of instruction, there's no way we could ever afford it.  One term would mean that we would at least spend 10,000 USD per child.  Some would even cost a lot more than that.
Homeschooling is the best option because our kids still get to learn Araling Panlipunan, Sibika at Kultura and Filipino subjects– in case we decide to go back to the Philippines, they could easily get into the schools again without having to struggle with these subjects because they are in Filipino.
Enrolling the kids at a local Thai school would also be an option to consider, but the medium of instruction would be in Thai.  Now, that would have been easy if the scripts they use would be the alphabets,  like what they do in Indonesia and Malaysia but Thailand has its own script, which makes it doubly difficult.
Lately, though, we have been contemplating on enrolling our 7 year-old Roi in a local Thai school. Yes, he has to go  back to Kinder 2 but that we think that the earlier we do this, the better.  The younger Roi is, the faster he will get the language, the sooner he would have friends and the easier he'd adopt to how they do school here in this country.
Since we are planning to stay long term, I guess this is the best thing to do.  Tough on us because we know that we are putting our child on a situation that would mean a bigger adjustment on his part but… how can we underestimate kids' ability to cope, learn another language and make local friends?
For all we know, we would all be worrying at home while our kid has been having the time of his life at school!  So… school starts in a week.  Roi is still not enrolled and we are still contemplating on what's the best thing to do.  Will it be local or homeschool?  Any thoughts?